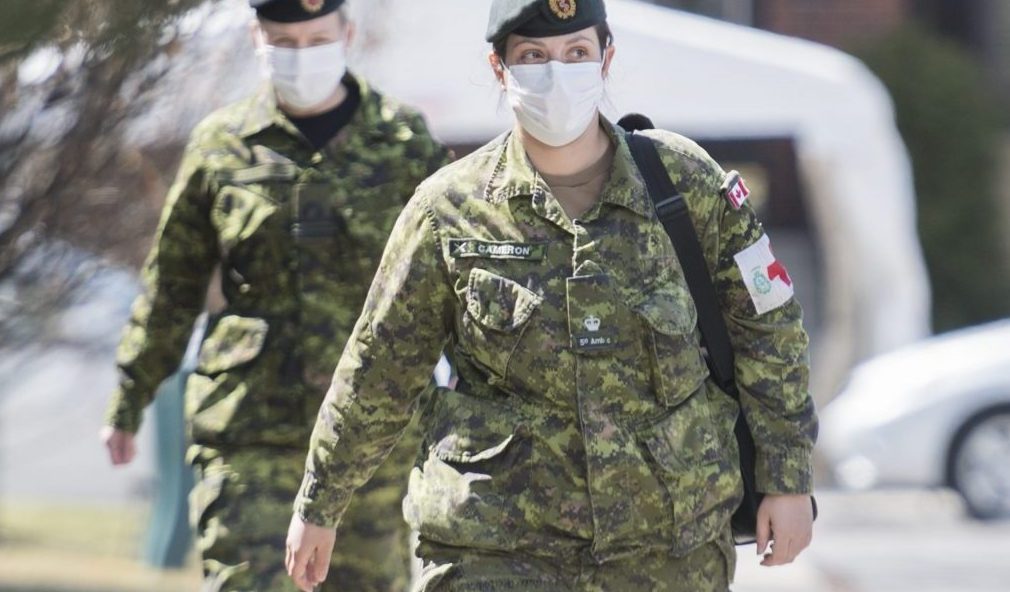 Alberta Receives Help From Federal Government, Other Provinces In Fight Against COVID
Posted Sep 30, 2021 4:06 PM MDT
Last updated Sep 30, 2021 at 4:20 p.m. MDT
Members of the Canadian Armed Forces are shown at Résidence Yvon-Brunet, a long-term care home in Montreal, April 18, 2020. THE CANADIAN PRESS / Graham Hughes
Summary
Alberta will receive eight to ten members of the Armed Forces trained in intensive care to deploy to hospitals in the Edmonton area
---
---
Newfoundland and Labrador will send a team of five or six trained intensive care workers to Fort McMurray.
---
CALGARY – Alberta is finalizing an agreement to bring Canadian Armed Forces medical personnel to Alberta to help fight the crippling fourth wave of COVID-19.
In addition to federal assistance, Alberta should receive assistance from the Canadian Red Cross and Newfoundland and Labrador.
WATCH: Premier Jason Kenney is joined by Minister of Health Jason Copping and AHS President Dr. Verna Yiu to provide an update on COVID-19.
Premier Jason Kenney said the province expects eight to ten members of the Canadian Armed Forces to be deployed to Edmonton area hospitals to help staff additional intensive care beds.
Canadian Red Cross staff will provide up to 20 ICU trained staff to provide assistance to the Red Deer Regional Hospital.
"Finally, we are finalizing plans with the Province of Newfoundland and Labrador, to host a medical team, which we expect will include approximately five or six experienced ICU staff who will likely be deployed to Northern Lights Regional. Health Center in Fort McMurray. " Kenney said.
Kenney says these contributions from across Canada will help the province staff four or five additional intensive care beds and, in turn, help provide other supports as needed.
{* mergeAccounts *}