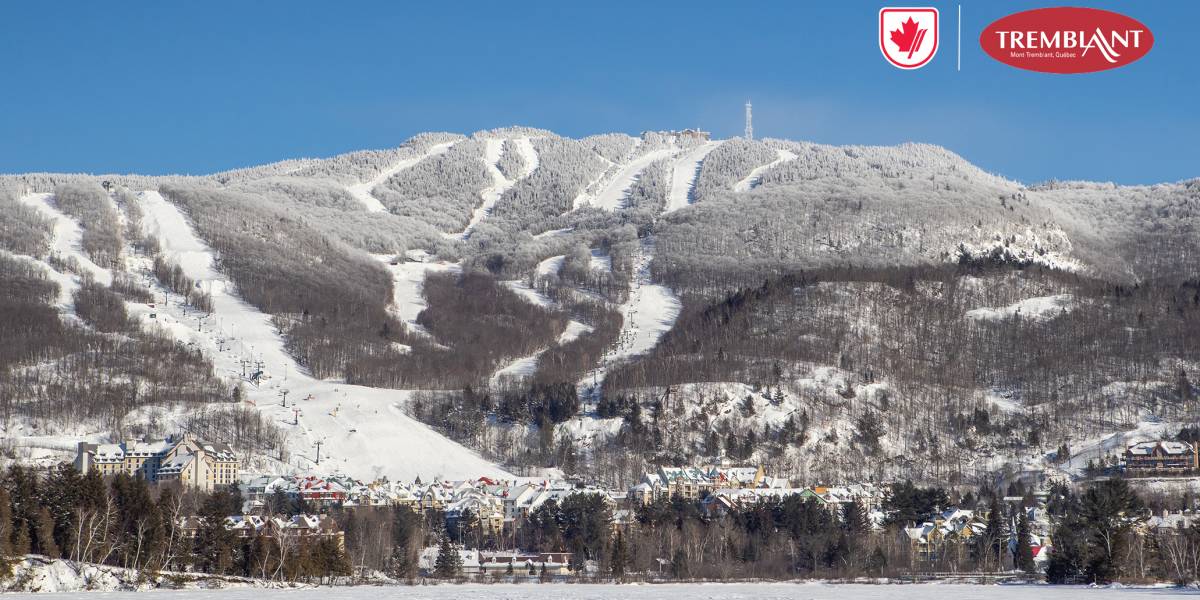 Alpine Canada | News | Alpine Canada and Station Mont Tremblant prepare to hold the FIS World Cup in Tremblant
The organizations announce their collaboration to host the annual FIS Women's Alpine Skiing World Cup event at Tremblant starting in the 2023-24 season.
MONT-TREMBLANT, QC (October 18, 2022) – Alpine Canada Alpin and Station Mont Tremblant are pleased to announce that they have entered into a Memorandum of Understanding (MOU) to work collaboratively to host an annual FIS Women's Alpine Skiing World Cup event at Tremblant. from December 2 and 3, 2023. Alpin Canada is the FIS Alpine WC rights holder in Canada while Tremblant is the host site.
FIS, the International Ski and Snowboard Federation, has committed to having two giant slalom races at Tremblant on the long-term calendar of the Women's Alpine Skiing World Cup for the next three years starting in December. 2023. This support is conditional on the proposed racecourse being upgraded to bring it up to world cup standards and running a successful test event. Alpine Canada and Station Mont Tremblant are working with the FIS on plans for the Women's World Cup at Tremblant.
The partners are committed to producing a race that Canadians are passionate about by hosting an annual Alpine Skiing World Cup event at Tremblant that grows the sport and the fanbase, provides an incredible experience for athletes and fans, is commercially sustainable and supports a strong legacy for the resort. and the ski racing community now and in the future.
"We are grateful to the FIS for this opportunity and are thrilled to have a world-class resort partner who is ready to invest in our collective vision," said Thérèse Brisson, President and CEO of Alpine Canada. . "Given the strength of our Canadian Women's Alpine Ski Team in technical events, we are keen to host a Women's World Cup with these disciplines in Canada for our fans. We are thrilled to give women's ski racing the spotlight it deserves by welcoming the best female skiers in the world to Mont Tremblant with all the ingredients for success. The region offers an enthusiastic fan base and a very engaged community of ski racing enthusiasts and volunteers. The scheduled dates logically fit with the World Cup schedule rolling out of Killington the previous weekend. »
"We are very excited about the prospect of hosting a future FIS Alpine Skiing World Cup," said Patrice Malo, President and Chief Operating Officer, Mont Tremblant Resorts and Company LP. "Working with Alpine Canada through the various stages to host the Women's Giant Slalom World Cup is a priority. This type of event is part of our company's DNA and it is important for us to contribute to the international promotion of athletes, skiing and Tremblant. We are convinced that our destination will meet the expectations of the teams and the spectators and we will do everything possible to ensure that the requirements are exceeded in order to make this event a great success for all. »
A World Cup Advisory Committee co-chaired by Mathieu Lapointe, Vice President of Commercial Operations at Station Mont Tremblant and Thérèse Brisson, President and CEO of Alpine Canada will provide oversight to the local organizing committee led by Nick Cogger, a seasoned event management professional with extensive experience. organization of FIS Alpine World Cups and Ironman events at Tremblant.
The parties are in the process of recruiting a world-class Local Organizing Committee comprised of technical, business and event management experts to lead the planning and execution of the Test Event and the annual World Cup event. world of downhill skiing at Tremblant. Plans are underway to complete track improvements this fall and hold a test event from February 27 to March 2, 2023.
"I had the opportunity to see the great commitment of the Mont Tremblant team and the full collaboration with Alpine Canada," said Peter Gerdol, Chief Director of the Women's World Cup of the International Ski Federation and snowboarding (FIS). "There are certain requirements that must be met before races can be confirmed, including a men's Nor-Am Cup test event in March. I look forward to my next site visit to see the progress and preparations for the test event. I am convinced that the Tremblant organizers will have everything in place to successfully organize World Cups next season.
"I'm thrilled to have the opportunity to participate in a World Cup in Mont Tremblant," said Valérie Grenier, member of the Canadian Alpine Ski Team. "Tremblant is my home club and it will be incredible to race there in front of my family, my friends and all the ski enthusiasts in the Laurentians. It really is a dream come true."
"The FIS Women's Alpine Skiing World Cup will be a time when girls around the world will admire skiers," said the Honorable Pascale St-Onge, Minister of Sports and Minister responsible for CED, "Over the past decades, Canadian female skiers' inspired young Canadians. They also encouraged our youth to stay active, which builds their confidence and has a lasting positive impact on their lives. I'm proud that Canada is striving to be the host country for the 23-24 season event.
For the upcoming 2022-2023 season, Alpine Canada, in conjunction with many dedicated volunteers from the ski racing community, is focused on delivering world-class Men's and Women's Alpine Skiing World Cup events at the iconic Lake Louise resort and the Ski Cross World Cup Finals at Craigleith Ski Club in Collingwood, Ontario. For more than 30 years, Canada has been an excellent host of the Alpine Skiing World Cup sprint events at the start of the season, something no other country outside of North America has been able to do in this time of year.
"With our plans for a women's tech event in the East coming to fruition, we look forward to finalizing our long-term strategy for a men's Sprint World Cup in the West," said Therese Brisson. "We are fortunate that there are several resorts in Canada, including Lake Louise, that are interested in hosting Alpine Skiing World Cup events and we are working with them to develop the right long-term strategy in partnership with the FIS. for next season and beyond. "
-30-
For more information or media inquiries, please contact:
Alpine Canada
Marc Halliday
[email protected]
Mont Tremblant train station
Felix Burke
[email protected]
About Alpine Canada
Alpine Canada is the governing body for alpine, para-alpine and ski cross competition in Canada, as well as for Canadian ski coaches, providing education, certification, insurance and adherence to the code of conduct coaches. With the support of valued corporate partners and donors, as well as the Government of Canada, Own the Podium, the Canadian Olympic Committee and the Coaching Association of Canada, Alpine Canada develops Olympic, Paralympic, World Championship and World Cup to stimulate visibility, inspiration and growth in the ski community.
About Mont-Tremblant Resort
Station Mont Tremblant is part of the Alterra Mountain Company family of 15 iconic year-round destinations, including the world's largest heliskiing operation, offering the Ikon Pass, the new standard in season passes. It is a premier four-season resort destination due to its guest experience both on the mountain and in its pedestrian village. Its view of the Laurentians, the diversity of its offer and its acclaimed major events – including the 24 hours of Tremblant and the Tremblant International Blues Festival – place Tremblant among the best ski resorts in North America according to Condé Nast readers. Traveler in 2020, in addition to being voted the #1 ski resort in eastern North America 20 times by readers of SKI magazine. As a family, a couple, with friends or in a group, Tremblant welcomes vacationers on direct flights from Toronto, to take advantage of 1,900 accommodation units spread over 13 hotel establishments, more than 75 restaurants, shops and a casino, the everything at the gates of nature.