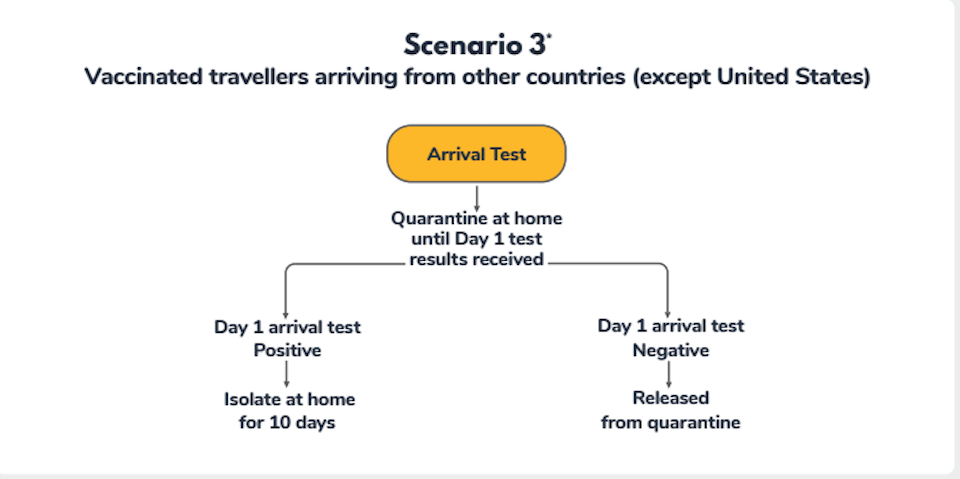 Canada releases new infographics on COVID-19 testing for travel
Are you confused by the new rules? You're not alone.
The Government of Canada is testing inbound international travelers for the coronavirus at the airport as an added precaution amid growing concerns over the Omicron variant, but many find the updated guidance confusing.
Many travelers said they were unsure whether they would be forced to quarantine themselves upon arrival or whether test results would arrive soon. Prior to the announcement, travelers only had to produce a negative test result obtained within 72 hours of flight to Canada (unless they were visiting the United States for a short trip).
But now the federal government is warning that all passengers entering Canada, except those from the United States, must be tested on arrival and isolated until they get their results. Additionally, travelers from the 10 African countries with entry bans face additional restrictions following the initial detection of the Omicron variant in South Africa, despite its prevalence in over 50 countries.
Last week, Federal Health Minister Jean-Yves Duclos acknowledged that Canadian airports do not yet have the capacity to fully test all non-American international arrivals. He did not say when it could realistically start, although random testing for returning overseas passengers is currently underway.
The federal government has released four infographics that demonstrate what protocol vaccinated versus unvaccinated travelers must follow to enter Canada. Two of the four images provide advice to travelers returning from the 10 countries with entry bans.
Protecting the health and safety of Canadians is our priority. We have measures to prevent the importation of COVID-19, including Omicron. In addition to the 72-hour test before coming to Canada, here are the different scenarios after arriving at the border: pic.twitter.com/ItAQhghPby

– Omar Alghabra (@OmarAlghabra) December 4, 2021
The World Health Organization has said it is too early to say whether Omicron is more transmissible than the Delta variant, although preliminary data suggests the strain may not be as severe as initially feared.
With files from the Canadian Press.