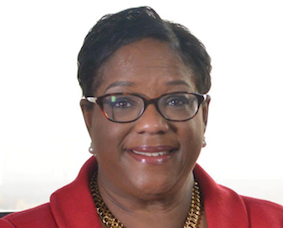 Delta Sigma Theta Sorority National President Dies After Recent Illness | Richmond Free Press
Cheryl A. Hickmon, National President of Delta Sigma Theta Sorority Inc. and Chair of its National Board of Directors, passed away peacefully on Thursday, January 20, 2022 at the age of 60, following a battle with a " recent illness," according to the national sorority website.
"She is remembered not only for her leadership role, but also for being a colleague, a friend and above all a sister," the sorority wrote in an announcement on its website. "The entire fraternity of Delta Sigma Theta Sorority, Incorporated mourns the loss of President Hickmon."
Delta Sigma Theta Sorority, a private, nonprofit organization, provides assistance and support through established programs in local communities around the world. The sorority currently has 1,000 collegiate and alumni chapters located in the United States, Canada, Japan (Tokyo and Okinawa), Germany, Virgin Islands, Bermuda, Bahamas, Jamaica, West Africa and Republic of Korea.
More than 10,000 members typically attend Delta Sigma Theta's biennial national conventions, and each of the seven regional conferences (held during years when there is no national convention) typically hosts thousands of members, according to the Delta Sigma Theta website. the sisterhood.
A native of Hartford, Connecticut, Ms. Hickmon joined the Hartford Alumnae Chapter of Delta Sigma Theta sorority in 1982 through South Carolina State University's Alpha Xi Chapter and has held several positions locally, regionally and nationally.
These roles included Hartford Alumnae and Alpha Xi Chapter President, Eastern Regional Director, South Atlantic Regional Representative, National Secretary, National Review and Revision Task Force Co-Chair papers and co-chair of the National Leadership Academy.
"Throughout her membership in the organization, she has held many positions," the NAACP said in a statement. "From Vice President to Atlantic Regional Representative, her dedication and commitment to seeing the legacy organization thrive was unmatched."
Ms. Hickmon was elected the 27th National President of Delta Sigma Theta last November in Atlanta at the sorority's 55th National Convention. Following the announcement of Mrs. Hickmon's passing, several prayer services were held in her honor and in her memory.
Outside of Delta Sigma Theta, Ms. Hickmon was a licensed clinical laboratory technologist and worked for over 30 years at the Montefiore Institute of Reproductive Medicine and Health, where she oversaw the In Vitro Fertilization Laboratories for Andrology. and endocrinology.
Ms. Hickmon was also a founding member of the Thrill-seekers Inc. ski and adventure club of New York and served with the Children's Defense Fund, the National Council of Negro Woman and the NAACP, among others. Her work in multiple groups has led her to be recognized multiple times, including as one of the 100 Most Influential African Americans in the State of Connecticut by the Connecticut Chapters of the NAACP and to receive the Citizen's Award. of the year of the Tau Iota chapter. by Omega Psi Phi Fraternity Inc.
Ms. Hickmon's biography for the Delta Sigma Theta website features a motto that speaks volumes about the approach she has taken to her life and work: "Don't measure life by the number of breaths you take, but by the number of moments that take your breath away."
No funeral arrangements have been announced at the time of publication by Richmond Free Press.