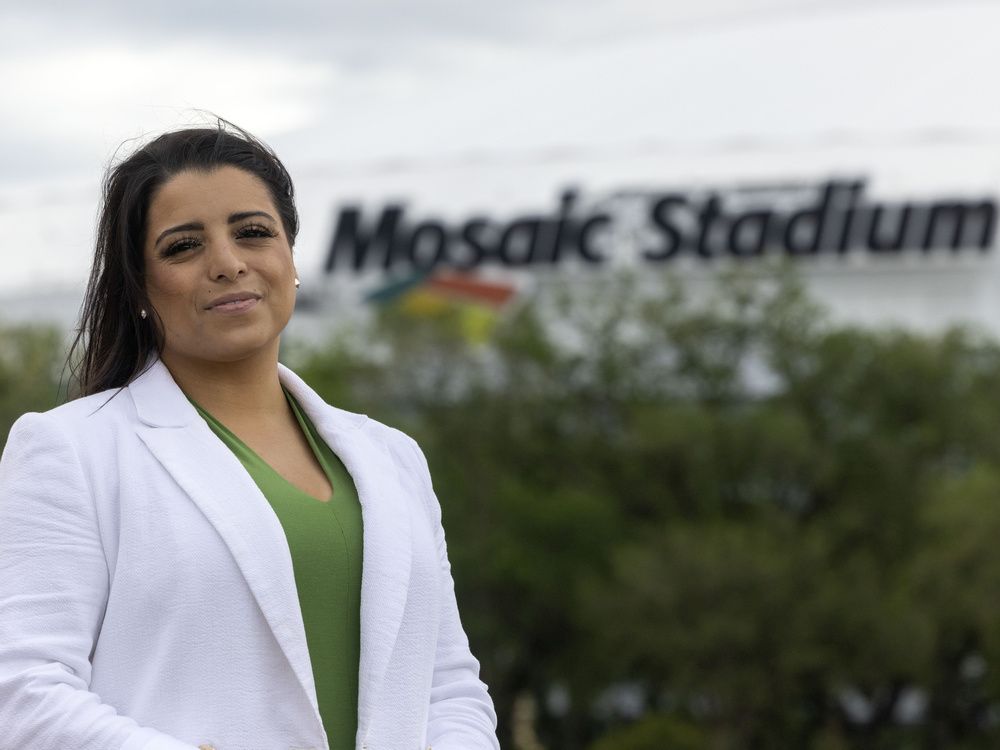 Groundbreaking sportscaster finds the grass is greener in Saskatchewan
Daniella Ponticelli is the first female member of CKRM's Riders broadcast team and the first female voice of the U of R Rams.
Content of the article
On May 5, 2000, 10-year-old Daniella Ponticelli was thrilled to emigrate to Canada from Cape Town, South Africa.
Content of the article
Full of anticipation for the adventure ahead, Ponticelli didn't feel like she was leaving much behind, nor fully aware of a bright future on the horizon.
A local television station was at the Winnipeg airport to cover his family's arrival because Ponticelli's mother, Maylene, was a radiation therapist who had been recruited to help with the area's brand new CancerCare Centre.
Along with her mother, Ponticelli was joined by her father Mark and older brother Stefano.
Despite being jet-lagged from almost two days of flying, the family members were so excited to have arrived at their new home. As Maylene charted a new course in her career, the sight of the news crew sparked something in little Daniella's mind.
"It was also, weirdly, I think, when I was like, 'I want to be a journalist,'" she says.
Today, 22 years after arriving in Canada, Ponticelli has held various journalism jobs in Manitoba and Saskatchewan. The latest assignment is notable because she is the first woman to appear on the CFL's Saskatchewan Roughriders radio broadcasts, working as a sideline reporter during home games.
"Being on the touchline is unreal – the sound of players clashing and crashing into each other, how they communicate when the home crowd is so loud," she says.
You can hear Ponticelli before and after games as she hosts the pre-game show Countdown to Kickoff as well as the post-game show SportsCage Radio Roundtable on 620 CKRM.
Content of the article
In addition to Ponticelli's game-day duties for the Riders, she will serve as the radio voice for the University of Regina Rams during the upcoming Canada West football season. Play-by-play is nothing new for Ponticelli, who can also be heard calling games for the University of Saskatchewan Huskies women's hockey team – a role she plans to return to once the seasons are over. CFL and Canada West completed.
Ponticelli may be innovating on the airwaves in Saskatchewan, but it was on the air that she first made her mark.
From 2006 to 2016 Ponticelli was an aerial acrobat, specializing in the use of fabrics, trapeze, hoop, stilts and rope. She got into the sport simply because the Winnipeg studio where she learned and taught dance — Monica's Danz Gym — started offering acrobatics classes.
"For a while I didn't think I could do it because I wasn't a gymnast," she says. "But I started training one summer and got totally hooked."
During Ponticelli's acrobatic career, she and her teammates – known collectively as the Momentum Aerial & Acrobatic Troupe – represented Canada at two world gymnastics events (2007 in Dornbirn, Austria, and 2011 in Lausanne , in Swiss).
The Canadians won no prizes, but the events were more exhibitions than competitions to see which country was the best.
"It was amazing," Ponticelli recalls. "Wearing the maple leaf, seeing and hearing the crowd react when Canada was announced and played, and then the kindness shown everywhere we went – ​​it made me realize how special it is to represent this country.
Content of the article
It is not lost on Ponticelli that she went from representing Canada to being a member of the radio broadcasting team of "Canada's Team".
"I see similarities for sure, especially when it comes to the connections you make with sometimes complete strangers," she says. "We hear fans listening all over the world on game days.
"I also believe that there is a tremendous responsibility when representing a country, a team or its official broadcaster. (It's important) to behave with dignity and respect, and to treat others in the same way .
In fact, interacting with Rider Nation is one of the things Ponticelli enjoys the most.
After every Riders home game, she travels from Mosaic Stadium to Rose Street and 12th Avenue to host the post-game show alongside "The Professor" Don Hewitt and former Riders halfback. Roughriders Wes Cates, 2007 Gray Cup champion.
Ponticelli acts as the conductor as she and her co-hosts field calls from fans of all ages and moods.
"Everyone wants to be heard, and we give them that space to do that," she says. "We also had some amazing young callers who shared their thoughts and it lights me up inside; it should be an accessible way for people to feel even closer to the game."
As soon as Ponticelli has finished covering a match, it's time to begin preparations for the following week's contest and its surrounding lineup.
The first thing Ponticelli does is take notes on all the post-match reactions from players and coaches. Throughout the week, she begins to craft storylines for the next time she's on the air.
Content of the article
Once all the dust has settled, it's time to head back to Mosaic Stadium and start the process all over again.
Ponticelli might be considered a pioneer in local sports broadcasting, but she doesn't see it that way. She didn't even know she was the first woman to work on a Roughriders radio show until she signed her contract.
"I'm just me. And it's hard not to feel that. Like, 'Hey, I'm just me; I have my dreams and I have my goals and I want to move forward,' Ponticelli adds, who acknowledges that it would be an honor if she could inspire other women to get into sports broadcasting." But at the end of the day, I get into my job because I love it and because I always want to grow and I always want to challenge myself."