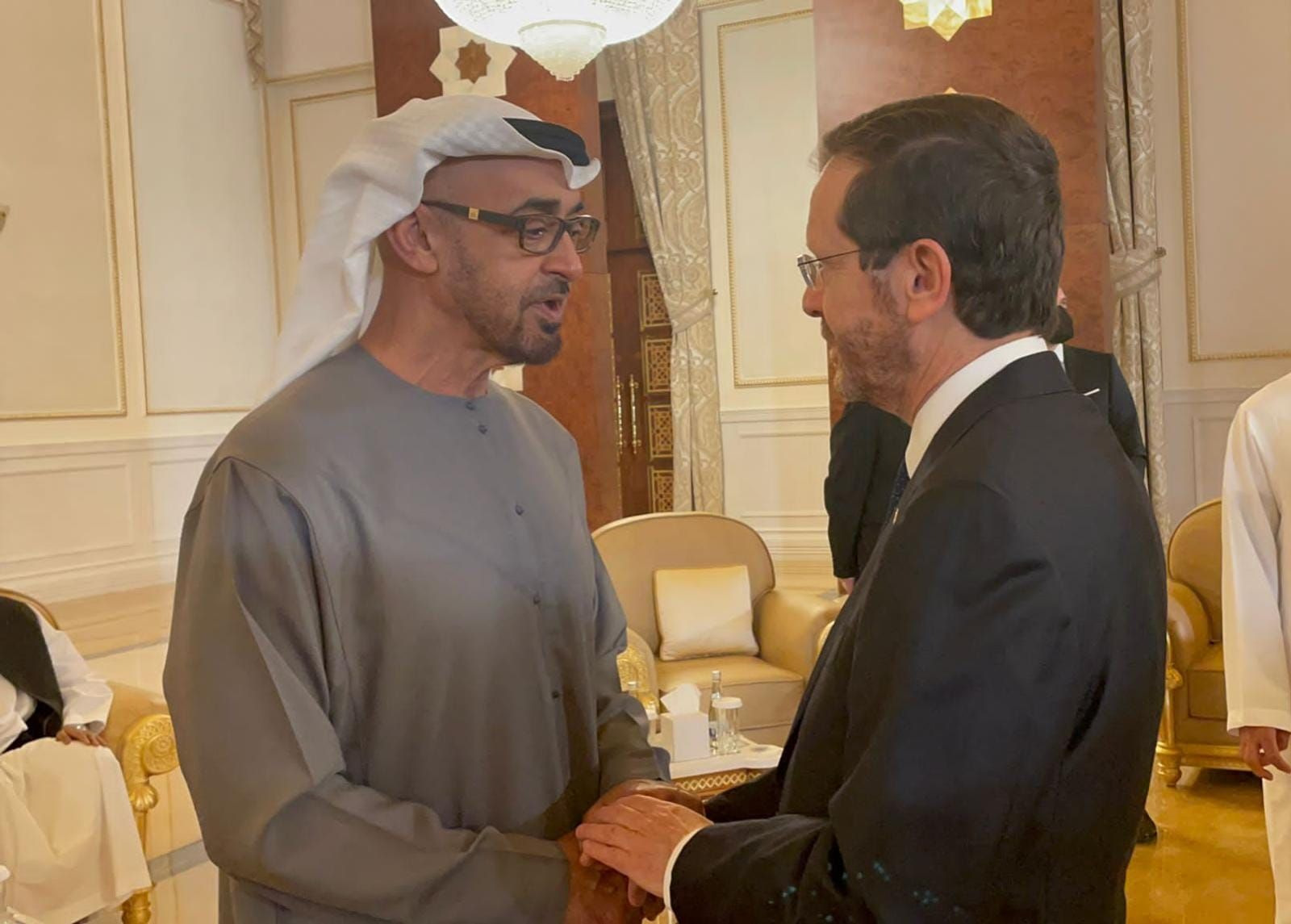 Herzog meets new UAE president during condolence visit to Gulf state
Israeli leader in Abu Dhabi after the death of Sheikh Khalifa bin Zayed Al-Nahyan
Israeli President Isaac Herzog met on Sunday in Abu Dhabi with the new President of the United Arab Emirates, Sheikh Mohamed bin Zayed al-Nahyan.
Herzog joined other world leaders gathered in the Gulf state to offer condolences on the passing of the President of the United Arab Emirates and ruler of Abu Dhabi, Sheikh Khalifa bin Zayed Al-Nahyan, and to congratulate his successor.
Regional Cooperation Minister Issawi Frej and Communications Minister Yoaz Hendel also represented Israel.
"I came here on behalf of the people of Israel, to express my condolences to you, your family and the Emirati people," Herzog said, according to a statement from his office.
"Your brother, Sheikh Khalifa, was an extraordinary man. His courageous leadership contributed immensely to the advancement of his country and his people and to the partnership that has materialized in recent years between our countries. The partnership he has highlighted is an asset for us and for the It is a legacy of progress and the struggle for peace in the Middle East.
Sheikh Mohamed, 61, was named president of the United Arab Emirates on Saturday following the death of his half-brother.
Other world leaders paying tribute include French President Emmanuel Macron, British Prime Minister Boris Johnson and Spain's King Felipe VI.
US Vice President Kamala Harris and Secretary of State Antony Blinken are expected Monday.