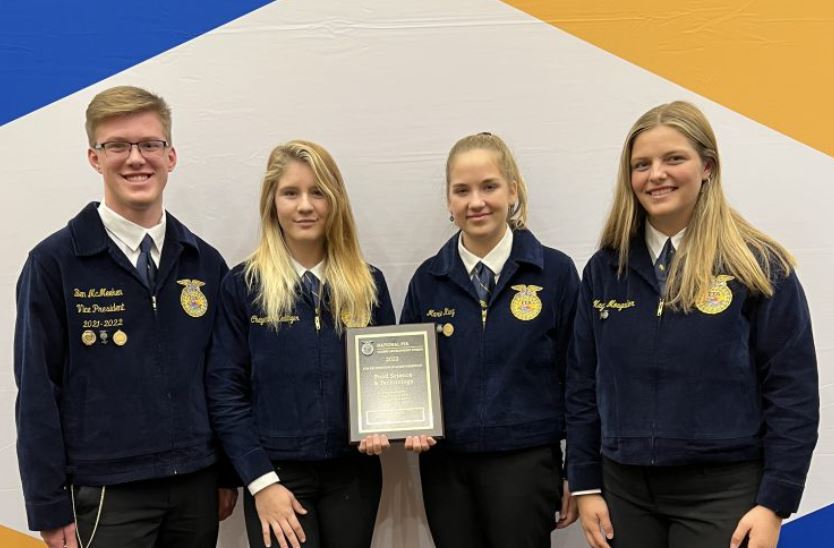 Slinger High School FFA Recognized as a 3-Star National Chapter at Annual Convention
Slinger, WI – The Slinger High School FFA Chapter of Slinger, Wisconsin had an outstanding week in Indianapolis, Indiana for the 95th Annual FFA National Convention and Exposition. The members were present from Saturday October 22 to Saturday October 29, 2022.
The Slinger FFA has been recognized on stage as a 3-Star National Chapter. This places them in the top 3% of the 8,817 top performing chapters in all 50 states, Puerto Rico and the US Virgin Islands.
Click on HERE at SUBSCRIBE to FREE local news on
Washington County Insider on Youtube
To demonstrate this success, local chapters must provide a minimum of 15 engaging learning activities for members each year in 3 independent focus areas: Developing Leaders, Developing Communities and Strengthening Agriculture. Former FFA President Paul Loosen and current FFA President Abigail Wolf accepted the honor on behalf of the chapter.
Benjamin McMeeken has been officially recognized as a National Finalist and Top 4 in the Nation in the SAE Competency Area of ​​Agricultural Education. Supervised Farming Experiments (SAEs) are individual student-led projects that members develop and improve over their years of membership to build skills for future personal and professional success.
For his SAE, Ben developed and implemented a program at Slinger Elementary and Middle School to improve the agricultural knowledge of students in grades 2, 4, and 6-8. Ben is currently a freshman at the University of Wisconsin – River Falls, majoring in agricultural education.
Allison Loosen has been selected to play trumpet for the National FFA Band for the second consecutive year. A product of our strong musical program here at Slinger, she then auditioned upon arriving in Indianapolis and was selected as the drum major.
The National FFA Band and Choir could be seen performing several times a day around the city and at Lucas Oil Stadium as part of the general sessions for the enjoyment of members, chapters and supporters.
Sponsored by Kerry Foods in Jackson, the Slinger FFA Food Science team represented Team Wisconsin at a national competition. Their creation of "Cluckin' Good Noodles", a ready-to-eat vegan rice-based meal, ranked them 17th nationally and silver status. As individuals, Marie King earned the gold ranking, Ben McMeeken a silver ranking, and Cheyanne Kedinger and Megan Mosgaller a bronze ranking.
Allison Gundrum, Hope Lockstaedt and Brooke Kiefer joined the elite 1% of FFA members to graduate as American FFA members at the 95th National Convention and Exposition this year.
To reach this pinnacle of achievement, members must have been an active member for at least 3 years, complete at least 3 years of high school agricultural education and 1 year in a post-secondary institution, earn at least $10,000 in their SAE project, and complete at least 50 hours of community service.
Additionally, the Slinger FFA sent 8 people on a charter bus with 6 different schools in the Southeast Wisconsin area. Chaperoned by Slinger FFA Alumni, Lillia Janz, Abbi Wolf, Chloe Cauwels, Maddy Hess, Isabelle Gintner, Jack Gintner, Liv Strupp, Josie Ebert and Paige Jambura were among those selected from the 184-member chapter to represent the community in this capacity. .
Members visited University Technical Institute in Lisle, Illinois, RDM Shrimp Factory in Fowler, IN and Cornerstone Bakery in Indianapolis, IN to view and understand the different stages of agricultural production and ideas for future careers. Members had the opportunity to attend student leadership workshops and network with hundreds of colleges, universities and agricultural businesses at the convention exhibit. To be entertained along the trip, the students enjoyed Cinch's World's Toughest Rodeo and laser tag with other FFA chapters.
As NAAE Agriscience Ambassador, Slinger FFA Advisor Katelyn Dei began her new role leading teacher workshops at the National FFA Convention and Expo. She worked with other Agriscience Ambassadors from North Dakota, North Carolina, and Kentucky to plan and present a workshop on water pollution to other educators and agricultural professionals in all the countries.
The Slinger FFA would like to thank the school and community for their support over the years. Events like this would not be possible without the support of various fundraisers throughout the year, such as the Moms Sale, Strawberry Sale, Ice Cream Stand and Fruit Sale. fall – ongoing now.
Related