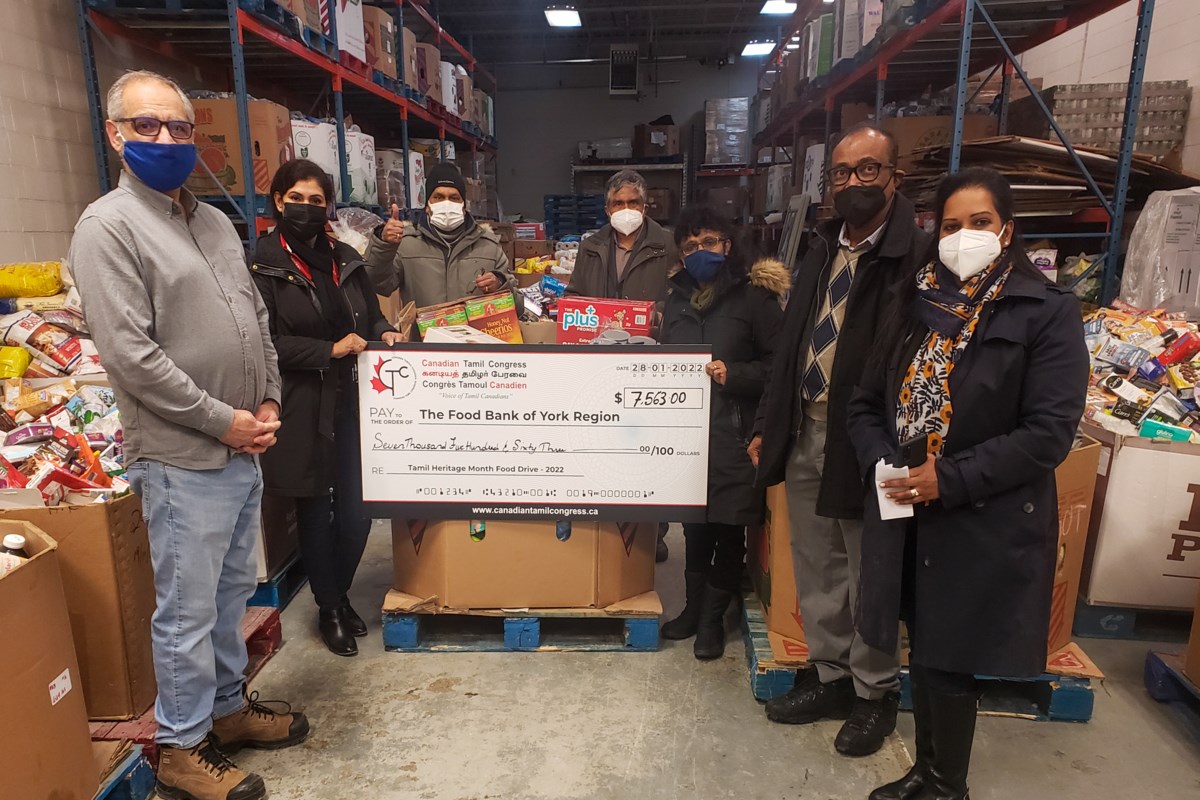 Tamil Canadian Congress donates $7,500 and 970 pounds of food to York Region Food Bank
Donation will help York Region Food Bank deliver more than 20,000 meals to residents in need
The Tamil Canadian Congress (CTC) raised $7,563 and collected 970 pounds of non-perishable food for the Food Bank of York Region (FBYR) which will help deliver over 20,000 meals to those in need.
The first annual convention fundraiser for the York Region Food Bank coincides with Thai Pongal and Tamil Heritage Month, celebrated annually in January, which aims to give back to those in need.
"We are thrilled to have the support of community organizations like the Canadian Tamil Congress," FBYR CEO and Founder Alex Bilotta said in a press release. "Their desire to host an annual fundraiser and food drive for our food bank is a demonstration of their commitment to the health and well-being of their neighbors in our communities who need food support. We need more community organizations like the Canadian Tamil Congress to make sure no one goes hungry in York Region.
CTC Vice President Raveena Rajasingham said knowing the donation will help those in the community in need, especially in these trying times, was "comforting".
"On behalf of the CTC, thank you to everyone who supported our first annual Tamil Heritage Month food drive and to York Region Food Bank for what you do."
For more information on FBYR's efforts to address food insecurity in York Region, or to get involved by hosting your own food or fundraiser, visit fbyr.ca.
York Region Food Bank is the regional food hub and mobile food pantry with a network of over 75 social service agencies and emergency home delivery programs. The network supports food programs in all nine municipalities of York Region, including the Newmarket Food Pantry, which serves more than 24,000 people in 7,000 area homes. COVID-19 has increased the number of people accessing food bank programs in York Region by 42% since 2018, widening the threshold for food insecurity to a wider range of our community members.