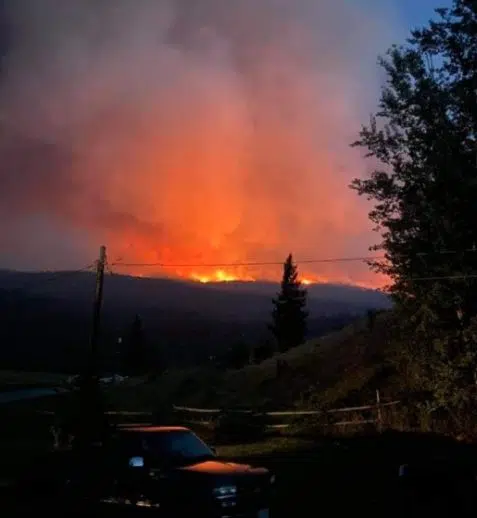 UPDATE – Ashcroft, Cache Creek and Savona are on evacuation alert due to the Tremont Creek wildfire | Radio NL
The communities of Ashcroft and Cache Creek as well as neighboring properties in the Thompson-Nicola Regional District have been placed on evacuation alert due to the Tremont Creek wildfire.
"We wanted to let you know in advance because we want to emphasize that this is only an alert and that we are doing it with a lot of caution," Cache Creek Fire Chief Tom Moe said in a statement.
"Cache Creek is safe from the risk of fire at this time, but please take this opportunity to make sure you are prepared."
Ashcroft Mayor Barbara Roden echoed a similar sentiment even though the blaze is closer to her community.
"It was very visible in the night sky last night, and people are certainly more aware of it now," Roden told NL News. "Of course, a lot of people in this region have very bad memories of 2017 and we are trying to get the message across that it is about precaution."
"As we saw in 2017, misinformation and fear thrive when there is no communication from a trusted source.
675 other TNRD properties are on alert, including the entire community of Savona, Walhachin and Thompson River Estates due to a threat to structures and residents
An evacuation alert for 50 properties near Barnes Lake was also turned into an evacuation order due to the Tremont Creek wildfire.
At the time of the last update, the fire had reached an estimated area of ​​780 hectares. It was discovered on Monday July 12 and is currently out of control.
"Strong winds are expected at the site again this afternoon," the BC Wildfire Service said in an update at 12:20 pm today. "Heavy equipment is currently working to establish exit lanes and when completed will begin to establish control lines. "
"Additional structural protection teams are on site to carry out further assessments."
The Ashcroft Indian Band also issued an evacuation alert for RI 2 (One Hundred Mile Post) and RI 4 (Ashcroft).
"We will continue to monitor the Tremont Creek fire and keep our community informed of its condition," said Chief Greg Blain. "We are in regular communication with EMBC and BC Wildfire. "
"Please don't panic, we are not in immediate danger. This is just a precaution, and you will be notified as soon as possible of any change in conditions. "
A road alert should also be put in place on the Trans-Canada Highway west of Savona to Cache Creek, then south to the Spences Bridge area. Highway 1 is already closed from the Spences Bridge in Hope due to the ongoing state of emergency in Lytton.
"Local residents are only allowed to George Road via a detour to Highway 5," a statement from DriveBC said. "Please avoid traveling to this area unless absolutely necessary. "
(Photo via Shianne Elizabeth)